Post-Launch Announcements/May 2020 Bug Fixing
Post-Launch Announcements

2019
2020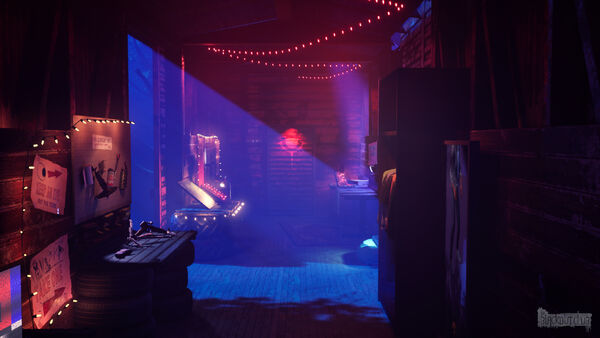 May 18, 2020
The Blackout Club has been updated with several bug fixes and improvements.
We have been testing this build in several public tests with the community and are pleased with the stability improvements added. At long last, they are live on the main branch for everyone. :)
It's live on Steam now for all our PC players, but we hope this will make its way over to the consoles very soon. It takes longer for those approval processes, and there are additional hoops for us to jump through, but hopefully everyone on PS4 and Xbox One will get their hands on this build before too long.
Thank you to all the PTB testers who helped track down so many locations with pathfinding and collision issues, we think we've dealt with the vast majority of them. Those of you afraid of the new Shape run will get to warn everyone else with an "I told you so". We're also really pleased to deal with the curse rewards for certain ciphers and things that were not working as they should 100% of the time. Anyways, console players we see you and we're on it!
If you're looking for the latest updates on what has been happening with Enhanced Horror and the game community, we recommend visiting our official Discord server (discord.gg/theblackoutclub) or our official wiki on Gamepedia (Player Interactions). You can also check out the hashtag #redacrespeaks on Twitter.
Bug Fixes and Improvements
The highest quality lighting build we've made yet, with fixes for a few problem areas as well.
Added a Photo Sensitive Mode for players who experience issues with "The Call" curse. You can set this in the Options menu under the "Video" tab.
Fix for ciphers occasionally not granting a curse
Tweaks to balance of "The Hunger" curse
Numerous fixes for AI pathfinding in problem areas (thanks to users who reported these using F8 or via our official Discord)
Fix for a softlock that occurs with gamepad when attempting to remember a dream while it is downloading
Fix for "Follow the trail" mission which in rare cases could not have a trail for clients
Fix for the journal menu UI when viewing empty ritual response list
Fix for rare load screen hang
Fix for possible "stuck on black screen" bugs
Fix for FX from speaker barrier being stuck on if you are suppressed near one
Fix for bugs in exorcism HUD if you collect masks before the mission starts
Fix for some hunger curse screen fx persisting when they shouldn't
Fix to prevent losing quest items in the place between
Fix to prevent "Gorgon" curse fx being applied to host when viewed by a suppressed player with curse
Fix to prevent falling in "The Place Between" on machines under our recommended minimum spec
Fixed Hunt-The-Strong sacrifice numbers showing on the sacrifice table
Fixes to some skin tone bugs with certain clothing items
Stability fixes
Misc. UI fixes
We also fixed some bugs on our online backend server code which had been causing some "Error Connecting to PlayFab" error messages as well as not always showing things like correct XP totals at the mission conclusion screen. This server fix was already live, but had not been called out in prior patch notes.
Thank you as always for playing and your support of The Blackout Club!
See you around the neighborhood! >Question