Signal Relays
| | |
| --- | --- |
| | This article is about the mission objective item. For the location in the Maze, see Signal Relay. |
Signal Relays
Information
Icon
Signal Relays are an item used to complete objectives in Steal missions.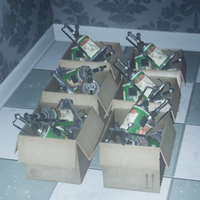 Transmits an optical signal. Requires line of sight.
— Item Description
Signal Relays are small devices build from the shell of a vegetable can and used to bridge a signal from a Workstation in The Maze to the transmitter near the surface of Redacre. 30 Signal Relays are provided and initially bundled in boxes of five each (for a total of six boxes). Signal Relays can be placed on almost any surface - floors, walls, ceilings, rocks, man-made objects - with the exception of door frames and other objects. In order for Signal Relays to transmit a signal from the Maze, they need to be able to connect via line-of-sight. According to Dax, it is "like stringing yarn through a maze."[1] Relays can be picked up and moved until the connection is made, after which relays cannot be picked up again once placed.
Signal Relays are used in the following objectives in Steal missions:
When placing a Signal Relay, the light will:
glow

pink

when the signal is connected from the Transmitter
glow

green

when connected from the workstation in the Maze
glow

yellow

when signal relays are connected to each other but not to the Transmitter or Workstation
not be illuminated if the individual signal relay cannot connect to anything.
The Club uses Signal Relays to build a network that will transmit the signal from the Workstation in the Maze to the transmitter above ground. The Club wants to route a signal from deep in the Maze out to the Club's receivers.[2]