Takedown
Takedown Information
Features
Ability to wrestle enemies, sustain pin
Takedown is the first card of the Takedown Major Power from the The Deck.
Description
The Takedown Major Power is a deck focused on offensively taking down Sleepers and Lucids. After unlocking the power, there are three additional upgrades that improve Takedown's overall ability. Due to the nature of interacting with the enemy, the Takedown skill can incur a lot of Sin if witnessed or the downed enemy is discovered; using this power may cause the Shape to be summoned faster.
Cards

   Takedown Advanced Grappling And Stay Down! Brawler 
Takedown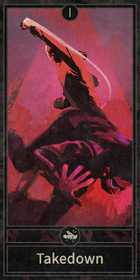 Information
Controls
Takedown an enemy from behind or from their back.
R
/

/

You're a little bit stronger than your peers, enough to take on an adult enemy from behind and knock them down, dazing them for about 10 seconds - as long as they don't see you coming first.
TO TAKEDOWN AN ENEMY: Approach an unsuspecting or preoccupied enemy from behind, then press the ["Use Power"] button once the target is within range.
TO TAKEDOWN FROM AN ENEMY'S BACK: You can approach an enemy from behind and jump on their back by pressing and holding down. While riding on an enemy's back, you can perform a Takedown by pressing the ["Use Power"] button again.


Trivia
Compared to all the other Major Powers, Takedown takes the least amount of Power Points to max out, due to only having three additional upgrades alongside the base upgrade (bring only a total of only 10 Power Points in total).