The Deck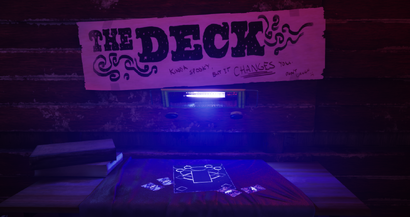 The Deck is the perk system available in The Blackout Club (game).
We don't know who made the Deck. We're pretty sure kids have had some of the cards since, like, the 90's, maybe earlier! Some are definitely newer. What The Blackout Club members do know is that some of them change when they focus on the cards. REALLY FOCUS! If you don't take it seriously, it doesn't work (doesn't seem to work for all of the members, anyway). Maybe it's BS, but we'll take any advantage we can get.
— A note describing the Deck in the Hideout
The Deck is located on a table within the Hideout. At the table, players can equip a major power, minor powers, and see their current XP amount and XP needed to attain the next level. Upgrades must be acquired in the order shown using power points. One point is earned each time the player reaches a new XP level. It takes 15 power points to max out the Drone, Hacker, and Unstoppable major powers. Takedown requires only 10 power points because it lacks a fifth card. Minor powers can be acquired using 1 or 2 power points depending on the power.
According to THEE-I-DARE, humans created the Deck. He says The Voices inspire us in dreams. The effects are caused by the power of belief.[1]
Select a card to learn more about the Major Power and its upgrades.
Minor Powers are lesser perks that can be equipped independent of Major Powers that enhance the player's abilities or benefit them in missions. Select a minor power to learn more.
Through beta and the first seven Early Access updates, sacrificing was done in the Deck. It was changed in Early Access Update 8 and moved to the mirror in the Ritual Space
According to a developer from Question LLC, the team contemplated allowing a "Ricky" option "which was this sort of useless kid with no deck equipped, who might have a backpack full of snacks or something." [2]