Unstoppable
Unstoppable Information
Features
Temporary immunity to pain, damage reduction, stamina regeneration.
Unstoppable is the first card of the Unstoppable Major Power from the The Deck.
Description
The Unstoppable Major Power is a defensive and passive deck focuses on taking less damage and having more available stamina. After unlocking the power, there are four additional upgrades that improve and extend the benefits and abilities.
Cards

   Unstoppable Unstoppable 2 Unstoppable 3 Unstoppable 4 Indomitable 
Unstoppable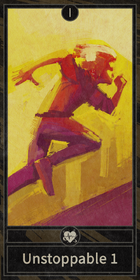 Information
Controls
Activate Unstoppable (Hold)
R
/

/

You collect pain and channel it with a crystalline focus that can protect your body from harm for a short period of time.
Hold the "Use Power" button to become immune to wounds for 10 seconds. Recharge this ability by feeling more pain.


Trivia
Unstoppable is typically the preferred major power by players who like to speedrun missions as the power allows them to complete objectives with infinite stamina and damage reduction. Unstoppable is also preferred by some players to efficiently deal with Stalkers.
Using Unstoppable does not inherently generate sin, but players often create other sins (e.g. noise, sight) that can make this power as sinful as others.